Sanders campaigns for Clinton
by Ed Sawicki - February 12, 2020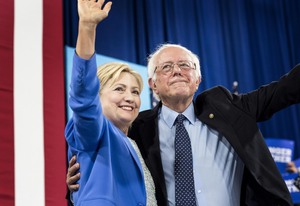 A common myth about the 2016 election season is that Bernie Sanders did not campaign for Hillary Clinton after she won the nomination - or did not campaign enough. It's repeated often on social media and sometimes implied by talking heads on the cable "news" networks.
The reality is that Sanders rigorously campaigned for Clinton in 40 cities from July 12 until November 6. Clinton thanked Sanders in this tweet in September.

Clinton also thanked Sanders in this letter.
Clinton thanked Sanders in her speeches.
Here's the schedule of all the cities where Bernie Sanders campaigned for Hillary Clinton. Many have links to press reports.
| | |
| --- | --- |
| July 12 | Portsmouth, NH |
| September 5 | Lebanon, NH |
| September 17 | Kent, OH |
| September 17 | Akron, OH |
| September 28 | Durham, NH |
| October 4 | Minneapolis, MN |
| October 4 | Duluth, MN |
| October 5 | Des Moines, IA |
| October 5 | Madison, WI |
| October 5 | Green Bay, WI |
| October 6 | Dearborn, MI |
| October 6 | Ann Arbor, MI |
| October 6 | East Lansing, MI |
| October 6 | Grand Rapids, MI |
| October 7 | Keene, NH |
| October 7 | Nashua, NH |
| October 7 | Bangor, ME |
| October 8 | Scranton, PA |
| October 8 | Philadelphia, PA |
| October 16 | Denver, CO |
| October 17 | Fort Collins, CO |
| October 18 | Flagstaff, AZ |
| October 19 | Reno, NV |
| November 1 | Plymouth, NH |
| November 1 | Hanover, NH |
| November 1 | Portland, ME |
| November 2 | Kalamazoo, MI |
| November 2 | Traverse City, MI |
| November 2 | Milwaukee, WI |
| November 3 | Youngstown, OH |
| November 3 | Cincinnati, OH |
| November 3 | Raleigh, NC |
| November 4 | Iowa City, IA |
| November 4 | Cedar Falls, IA |
| November 4 | Davenport, IA |
| November 4 | Omaha, NE |
| November 5 | Ames, IA |
| November 5 | Colorado Springs, CO |
| November 6 | Phoenix, AZ |
| November 6 | Las Vegas, NV |
Sources
Hillary Clinton, Hillary Clinton Speeches - October 2016
Tommy Kombuchar @ThomasIsOnline on Twitter