Yanis Varoufakis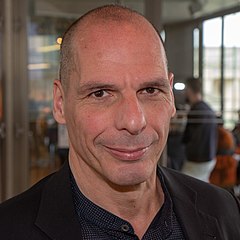 Yanis Varoufakis is a Greek economist and politician who served as Minister of Finance of Greece in 2015.
Notable quotes
"When some corporation goes bust, who gets paid first amongst the creditors is a political decision. So why not change it? Why have the bankers get paid first and the workers last?" Video
Another Now
This is how his book Another Now is being presented:
Imagine a world with no banks. No stock market. No tech giants. No billionaires. Imagine if Occupy and Extinction Rebellion actually won. In Another Now, world-famous economist Yanis Varoufakis shows us what such a world would look like. Far from being a fantasy, he describes how it could have come about—and might yet. But would we really want it?
Varoufakis's boundary-breaking new book confounds expectations of what the good society would look like and reveals the uncomfortable truth about our desire for a better world …
Lectures
Oxford Union: Full Address & Q&A
Cambridge Forum: Is Capitalism Devouring Democracy?
TED: Capitalism will eat democracy -- unless we speak up
Google: And the Weak Suffer What They Must?
New York Public Library: Yanis Varoufakis with Professor Noam Chomsky (April 2016) | DiEM25
The New School: Yanis Varoufakis: The Future of Capitalism
The New School: Yanis Varoufakis on Talking to My Daughter About the Economy (May 2018)
Politics and Prose: Yanis Varoufakis (June 2018)
Books
Talking to My Daughter About the Economy: or, How Capitalism Works--and How It Fails
Technofeudalism: What Killed Capitalism
The Global Minotaur: America, Europe and the Future of the World Economy
And the Weak Suffer What They Must?: Europe's Crisis and America's Economic Future
Adults in the Room: My Battle with the European and American Deep Establishment
Sources
Wikipedia: Democracy in Europe Movement 2025
Wikipedia: MeRA25 (European Realistic Disobedience Front)
open Democracy: Will MeRA25 bring the bright day that Greece has been waiting for?
NY Times: Yanis Varoufakis: No Time for Games in Europe