Weeding Out Bad Cops
by Ed Sawicki - May 31, 2020 (updated December 2021)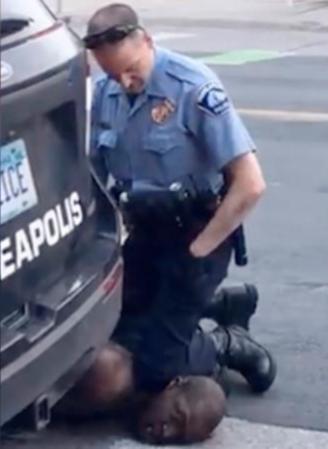 What's to be done about police murders of unarmed black men and women? It doesn't seem like this problem will ever go away. In addition to this being horribly wrong, unfair, and racist, it's costly to taxpayers. Many cities are paying out so much in settlements that it's impacting their ability to provide services to their citizens.
Here's a market-based solution. Require that all police officers carry liability insurance just as you do for driving your car. They can't work in law enforcement without it. If they murder someone, are sued, and a court awards damages, their insurance is either canceled or premiums increase. They can't escape this by moving to another city and continuing to terrorize the public.
The liability insurance in no way prevents officers from being charged with crimes, of course.
This can be achieved with a nationally-negotiated contract that keeps costs relatively low—a national bulk purchase of liability insurance. Insurance companies must compete for the business. It's a lucrative business because most cops are not bad and there would be far fewer bad cops and incidents of murder after this program was up and running for a few years.
Cities can reimburse officers for the cost of a basic policy - one where there are no court awards for claims against the officer. The officer pays anything over that amount out of their own pocket. Cities would likely pay far less than they are now for court awards to victims.
Cities are paying out a lot of money in settlements. Between January 2015 and May 31, 2020, the city of Chicago paid over $350 million in settlements and legal fees, according to the City Law Department.
List of payouts to victim's families

Here's a partial list of Black people killed by police where the settlement amounts are over $1 million, adjusted for inflation.

Person
Year
City
Settlement
($millions)
Nathaniel Pickett II
2015
Barstow, CA
33.0
LaTanya Haggerty
1999
Chicago, IL
30.0
Bettie Jones
2015
Chicago, IL
16.0
Breonna Taylor
2020
Louisville, KY
12.0
Aaron Harrison
2007
Chicago, IL
11.4
Fred Hampton
1969
Chicago, IL
9.0
Walter L. Scott
2015
N. Charleston, SC
7.6
Freddie Gray
2015
Baltimore, MD
7.5
Tamir Rice
2014
Cleveland, OH
7.0
Eric Garner
2015
Staten Island, NY
5.9
Ronnell Foster
2018
Vallejo, CA
5.7
Laquan McDonald
2014
Chicago, IL
5.0
Amadou Diallo
1999
New York
5.0
Javier Ambler II
2019
Williamson, Texas
5.0
William Hope
2010
Chicago, IL
4.6
Rekia Boyd
2012
Chicago, IL
4.5
Freddie Wilson
2007
Chicago, IL
4.5
Akai Gurley
2014
Brooklyn, NY
4.1
Flint Farmer
2011
Chicago, IL
4.1
Philando Castile
2016
St. Anthony, MN
3.8
Wayne Jones
2013
Martinsburg, WV
3.5
Sean Bell
2006
New York
3.2
Cedrick Chatman
2013
Chicago, IL
3.0
Oscar Grant
2009
Oakland, CA
2.8
Darius Pinex
2011
Chicago, IL
2.3
Dontre Hamilton
2014
Milwaukee, WI
2.3
Calvin Cross
2011
Chicago, IL
2.0
Derek Williams
2011
Chicago, IL
2.0
Sandra Bland
2016
Encinia, TX
1.9
Michael Brown
2014
Ferguson, MO
1.5
It's not just murders by police that result in large settlements. It's false imprisonment as well. In Chicago, Jacques Rivera was imprisoned for 21 years for a murder that he did not commit. NPR reported that, "Rivera is one of at least 20 who have been exonerated in cases where that detective, Reynaldo Guevera, led the investigations." Rivera was awarded $17 million.
These award amounts could pay for a lot of liability insurance.
Let the insurance companies weed out the bad cops since local governments and Congress can't seem to do it.
Sources