Achille Lauro Hijacking
by Ed Sawicki - October 7, 2017 (update May 25, 2021)
UPDATE: On May 23, 2021, a Ryanair flight from Athens, Greece to Vilnius, Lithuania was tricked into landing in Minsk, Belarus in order to capture a passenger. A Belarusian fighter jet intercepted the airliner to help convince it to comply. These "forced" landings of commercial airliners are rare. This article covers a forced landing of an Egyptian jetliner by the United States in 1985.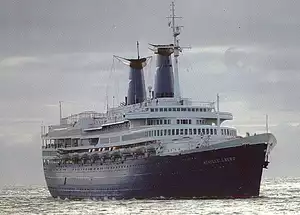 On October 7, 1985, four members of the Palestinian Liberation Front (PLF) hijacked the Achille Lauro cruise ship. The ship was sailing from Alexandria, Egypt, to Ashdod, Israel. They shot and killed a passenger, Leon Klinghoffer, a 69-year-old Jewish American in a wheelchair, and dumped his body overboard.
When the ship docked in Egypt, the hijackers negotiated for safe passage to Tunisia. They boarded an EgyptAir 737. U.S. Secretary of Defense Caspar Weinberger ordered the plane diverted to the U.S. Naval Air Station Sigonella in Italy. He and Ronald Reagan wanted them brought to the U.S. for trial. U.S. F-16s forced the plane to land using the threat of shooting down the plane if the pilot didn't comply.
At Sigonella, armed Italian Air Force personnel and the Carabinieri (the national military police of Italy) faced off with Navy Seals and took the Palestinians into custody. Italy abolished its death penalty in 1948 and will not extradite, but Italy assured the U.S. that the hijackers would be tried for murder.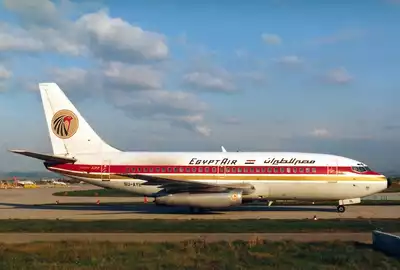 Despite a PLF claim that it was really Klinghoffer's wife who murdered him for the insurance money, they were convicted. However, two of them escaped while on parole in 1991, thus serving only 6 years. Klinghoffer's murderer escaped while on furlough in 1996 but was recaptured.
Paroles? Furloughs? For convicted murders?
Americans are not accustomed to such liberal treatment of prisoners, especially since most states still have the death penalty.
Note: The Achille Lauro caught fire in December 1994 in the Indian Ocean and sank.
The first link in the Sources section below is a detailed description of the Achille Lauro/EgyptAir affair.
Sources
ADST: The Achille Lauro Hijacking — "These sons of bitches must be prosecuted"
Wikipedia: Achille Lauro hijacking
YouTube: Achille Lauro burns in the Indian Ocean
Wikipedia: Evo Morales grounding incident
Kyrgyzstan Confirms Iran Intercepted Plane, Arrested Two Passengers